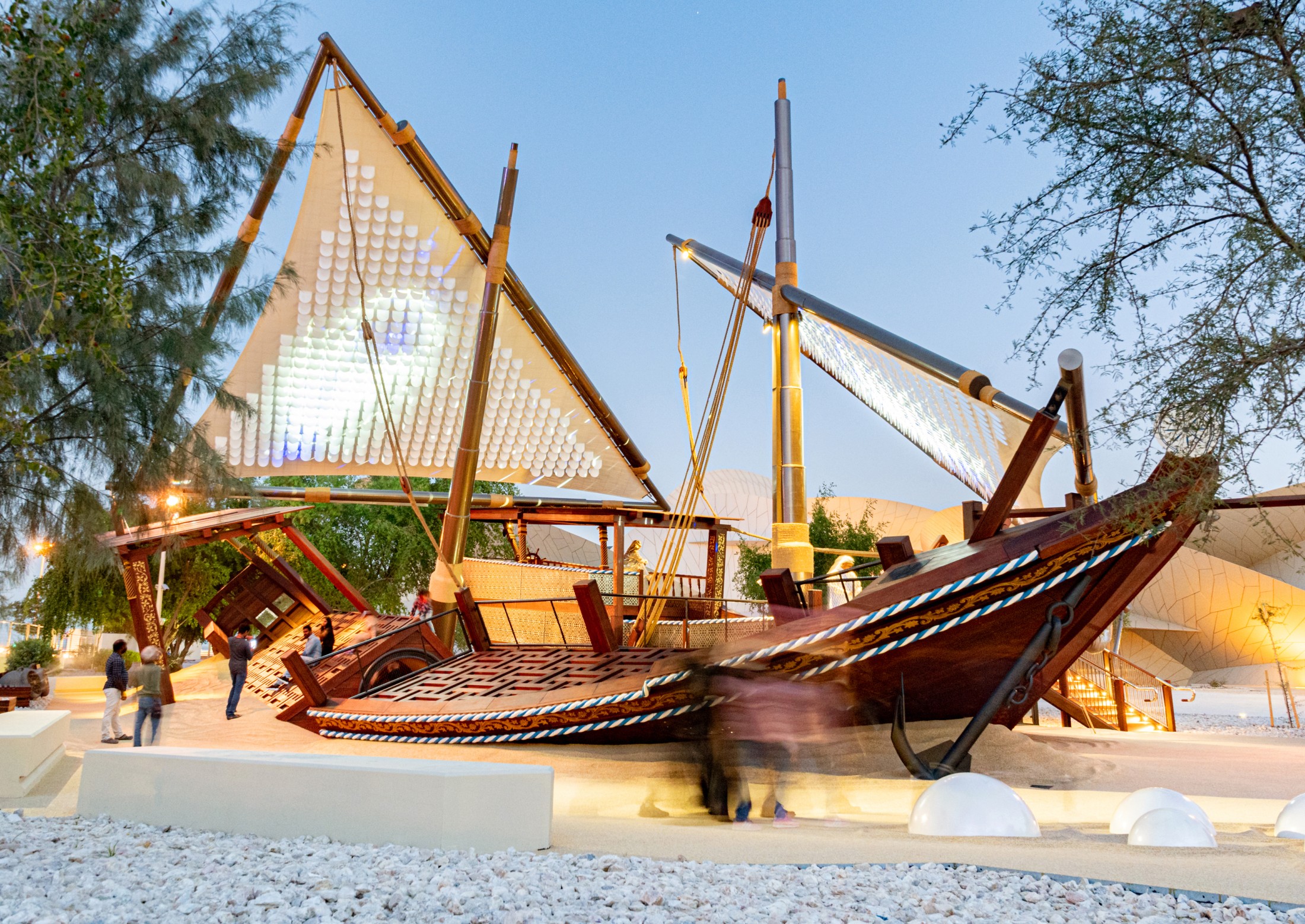 National Museum of Qatar Playground
The playground design encourages visitors to explore beyond the Museums' structure and to learn more about the local history and culture of Qatar.
The Adventure Ship and Cave of Wonders are the first in a series of playgrounds within the site of the National Museum of Qatar. The immersive and curated play spaces showcase the stories behind the importance of the sea and Qatari cultural history.
Each playground is specifically themed with a strong connection to the internal galleries of the museum and brought to life in a playful, interactive and natural setting to engage people of all ages and abilities.
Qatar's extreme weather was mitigated through an array of technologies including integrated cooling mist fans, chilled water systems for water features and cave structure, as well as optimised shade planning for the sails and structure.
Qatar's diverse landscapes includes naturally occurring and eroded caverns (or 'duhul') just below the surface.The Cave of Wonders playground is a direct response to the geology, fauna and history of the dahl, or cave formations, the Cave of Wonders creates a mysterious underground play space, and provides opportunities for story telling by the museum.
The Adventure Ship playground is laid open on the sand, ready to explore, it reveals the remains of the legendary sailor and trader Erahmah Bin Jaber's treasure and the 'shipwreck' of his most famous ship, the Ghatrousha.
The Adventure Ship has been created as an authentic recreation of a dhow, (a traditional Qatari ship), in the harbour adjacent the Museum of Islamic Art. Handmade wood carvings decorate the exterior of the ship with a plethora of patterns and colours to enhance the authenticity of the ship.
Team
Damian Schultz, Peter Ayres, Kar Gan, Lin Markus, Mitchell Lobb
Photography
TCL, Sixty Degrees
"TCL was a clear selection for this project as their competition entry provided unique Playground design responses that demonstrated they completely read and understood the project brief, embraced our cultural requirements and the museum context for the project" — National Museum of Qatar: Director Sheikha Amna bint Abdulaziz bin Jassim Al-Thani
"The Most Skilled Spotted GumProject I Have Ever Seen" — International External Timber Design Consultant, Ted Stubbersfield on the Adventure Ship