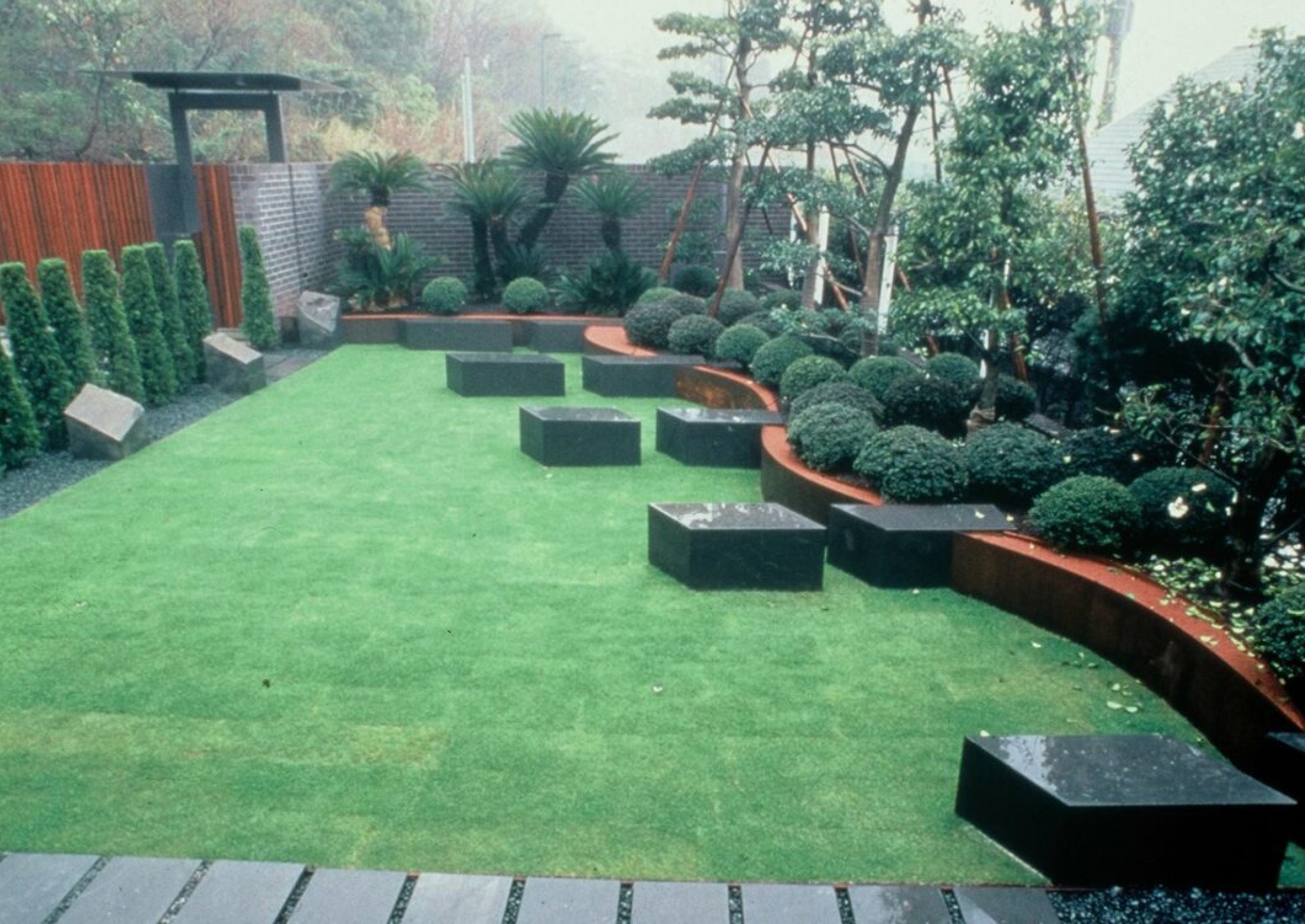 Australian Consul General's Residence
A garden designed for the Australian Consul General in Kobe, Japan.
This garden is situated at the extreme edge of Kobe's urban limits, on the southern face of Mount Rokko. Adjacent to this 0.9 hectare site is a picturesque creek line, backed by Black Pine and Cherry trees.
Due to the Australian Consul General's Residence's symbolic and official status the garden sets out to become more than a function of its programmatic requirements. Therefore the garden grapples with the intriguing challenge of showcasing Australian design, yet responds to its distinctive context and references the breathtaking legacy of Japanese Garden History.
The design establishes a series of garden rooms, which respond to the internal house planning and cater for formal and ceremonial functions, informal family activities and composed garden views.
The garden blends these pragmatic requirements and references Japanese garden design themes such as minimalism, 'suwari' (forced perspective), ceremony, and 'shakkei' (borrowed scenery), resulting in a western garden composition that is intentionally Japanese in spirit. Each garden room is thematically distinct providing for a variety of uses, moods and experiences.
The 'formal garden' consisting of a simple lawn plain, punctuated by bluestone piers and curved 'Corten' steel allows for ceremonial duties and provides for an uncluttered area for outdoor parties and events. The repetitive bluestone elements provide for informal seating whilst creating a sense of depth by their parallel relationship to the main formal sitting area of the house.
Adjacent to the family dining room is a narrow triangular garden area. This garden bordered by decking on one side is intended as a playful twist to the traditional 'karesansui' (dry landscape) and uses the Japanese 'bento' lunchbox as a symbolic frame in which elements of the Australian landscape are showcased to become a talking point for visiting dignitaries.
The third garden area responds in its design to an adjacent creek valley and is intended as the more relaxed, family garden area. A curving seat projects out over the creek below and allows views out beyond the site. The iconic Australian BBQ built by sculptor Greg Clarke becomes the centrepiece for this spiral form.
Collaboration
Simon Taylor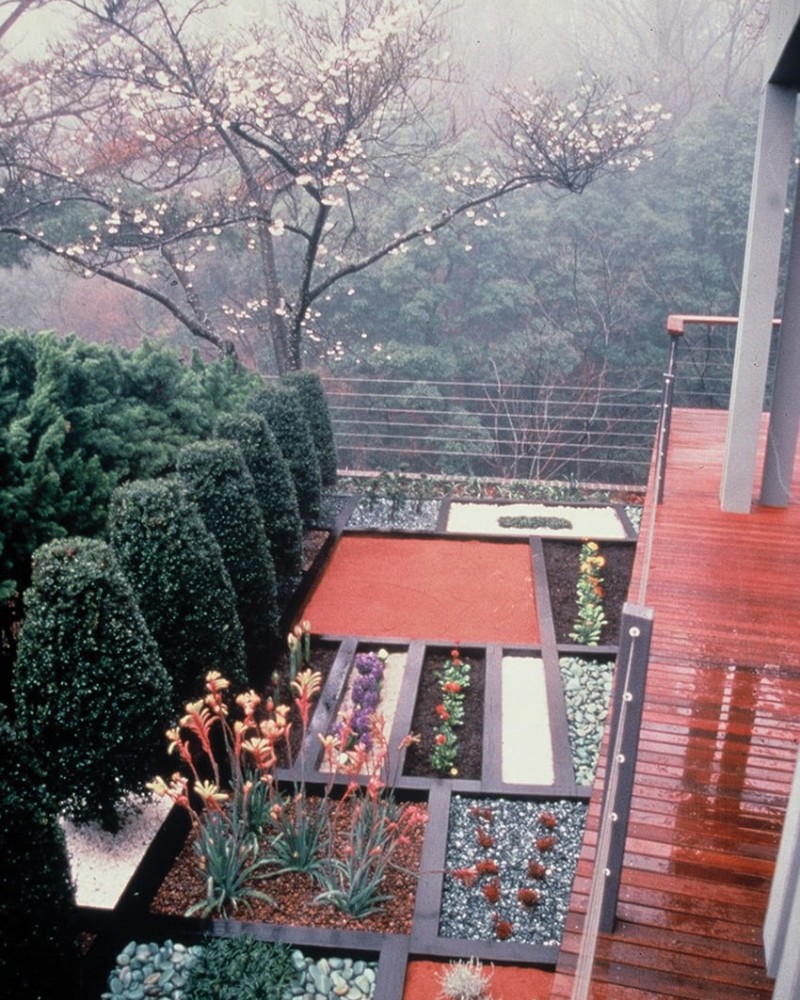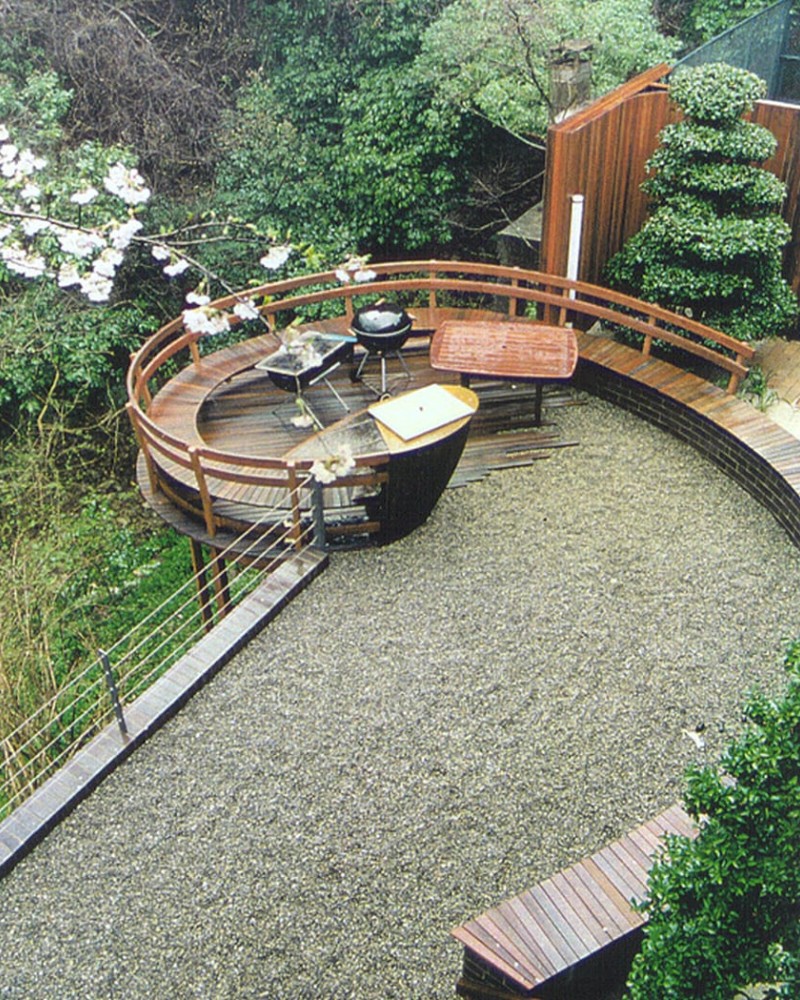 2000 AILA National Award Overall Landscape Excellence
1998 AILA Award(Vic) Overall Landscape Excellence
"Beautiful design, sensitive to cultural context and cross-cultural referencing. It exhibits strong internal consistency of theme and elements, achieved through an overall serene aesthetic in conversation with some playful Australian comments. The flexible spatial resolution allows for both domestic intimacy and large ceremonial gathering." — Jury