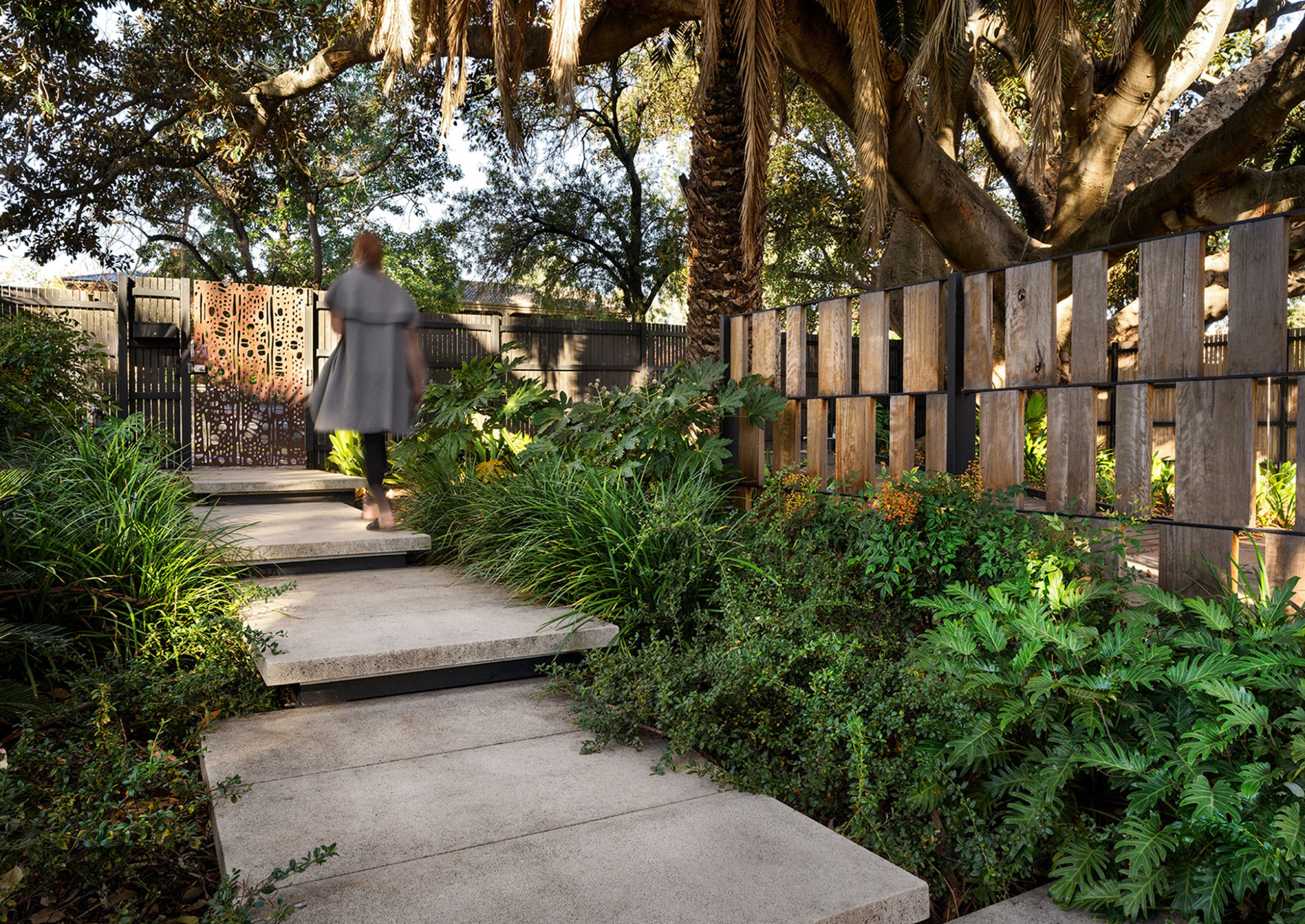 The half hectare site of the Jones Garden and Residence provided a number of challenges and opportunities. A degraded creek ran along the northern boundary and a number of very large significant eucalyptus and mature palm trees were to be retained.
Regeneration of the creek was a priority, as well as careful siting of the house to ensure the health and longevity of these significant trees. TCL worked closely with the architects Grieve Gillett Anderson to ensure the unimposing house of naturally graying timber rests quietly in a relaxed garden environment.
Location
Tusmore, South Australia
Traditional Owners
Kaurna people
Collaboration
Grieve Gillett Andersen (architecture), Aquatek (irrigation), Pro Ag Consulting (soil assessment), RLB
The house is sited well back from the front entrance allowing the significant trees the space their grandeur commands. This creates a sizable front garden sequence that grades down to the house. Cars and pedestrians are afforded separate entrances to ensure a safe family environment, and the roots of a significant eucalypt are protected by a floating timber deck entrance and porous driveway paving. The view to the driveway and cars is softened by a timber screen that allows glimpses into the garden upon arrival by car.
The form of the house creates a number of courtyards including a pool, BBQ and deck area to the north and a quiet shady contemplative garden to the south. The garden palette of hardy Mediterranean trees and plants creates multiple layers of varied textures, hues and forms. The banks of the creek have been laid back, lined in sandstone boulders and planted with mostly indigenous vegetation.
Materials are subdued with sandy-coloured pavers, Kanmantoo setts, sandstone gravel paths, naturally graying timber decks and screens, black stained timber front fence, and a laser-cut rusted steel front gate depicting the cross section of a eucalyptus leaf. A pop of hot pink for the house numbers juxtaposes this natural material selection. All external elements except the pool have been designed by TCL.
2019 AILA National Award of Excellence for Gardens
2019 AILA South Australia Award for Gardens
"The thoughtfully crafted garden embraces the site and its existing features and integrates a new residence in a fitting demonstration of quality design….The jury commended the design team for its engaging use of plants to create layers of varied textures, hues and forms." — Jury Citation, 2019 National AILA Awards