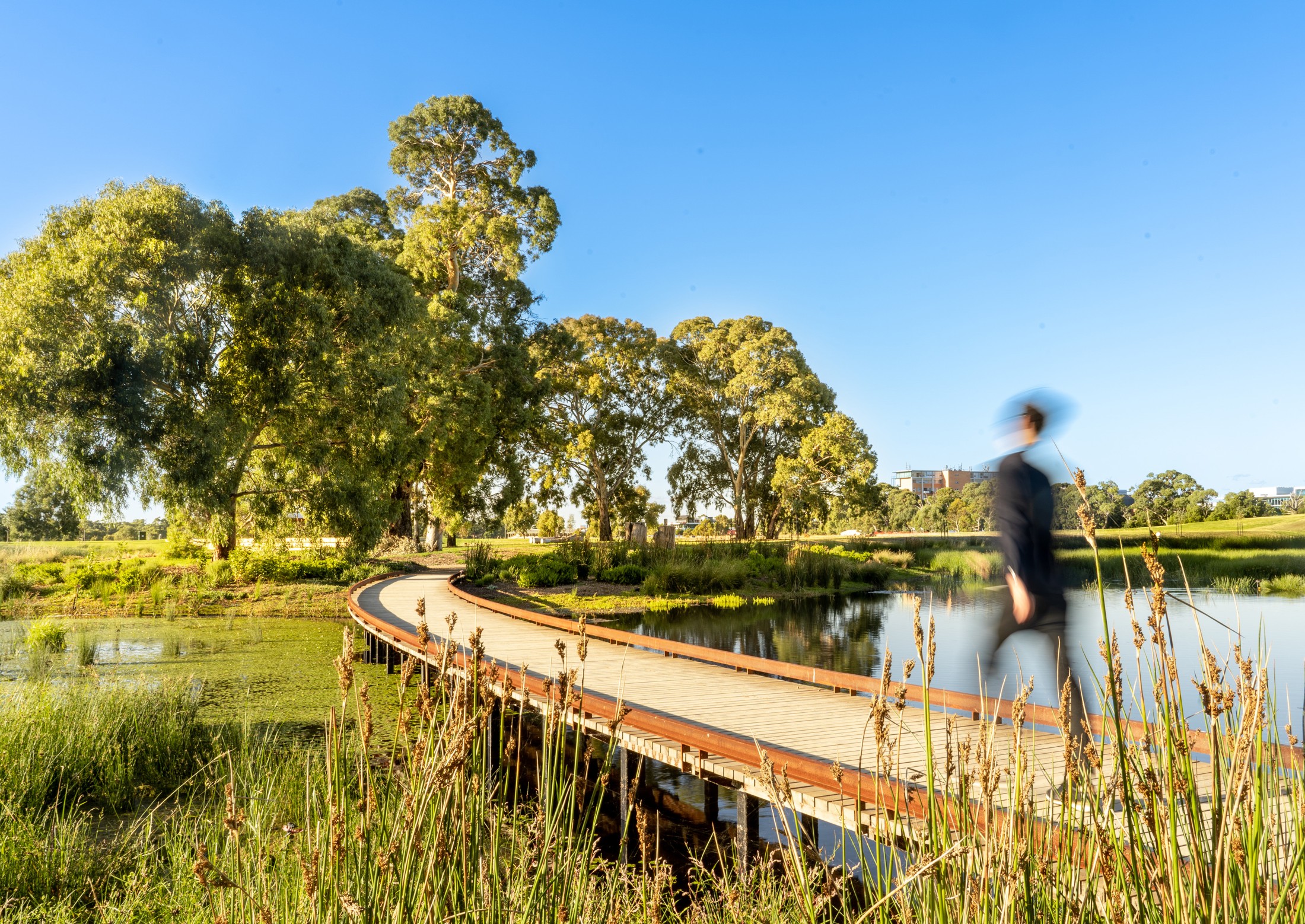 The South Parklands wetland detains and treats flows from Brownhill Creek as part of an overarching flood mitigation strateg of the broader Brown Hill Keswick Creek Stormwater Project across five different council areas.
The wetland enhances water quality and the ecological value of the site, whilst improving amenity and recreational benefits for users of the Adelaide Parklands.
The new park amenities include a series of walking trails and shared paths over 2km, a large amphitheatre and mounded lawns, 200m Gabion Walling, several viewing decks and boardwalks, and Kaurna cultural interpretation carefully sited amongst the existing remnant trees and sensitive ecosystems.
The South Parklands Wetland is a prime example of how landscape architects can use green infrastructure to mitigate flood risks, promote climate resilience, and prioritize social and environmental benefits.The wetland system substantially reduces the risk of a 1/100 year flood and provides access to nature and recreation opportunities for the local community.
The design of the wetland system embodies the principles of community health and wellbeing, nature connection, building stronger communities, delivering connectivity and access for all, contributing to neighbourhood character, and supporting resilient neighbourhoods.
Throughout the project, TCL worked closely with multiple local councils, stakeholders, design professionals, and Kaurna communities to ensure the integration of cultural heritage, biodiversity, and sustainable practices.
Client Name
Brown Hill Keswick Creek Stormwater Project
Lead/Civil Engineering
Tonkin
Hydraulic Engineering
DesignFlow
Traditional Owner Engagement
Kaurna Yerta Aboriginal Corporation
Traditional Owner Artist
Alan Sumner
Cultural Heritage Survey
RAW
Civil/Landscape Construction Lead
Bardavcol
Project Management
Procure PM
Landscape Construction Partner
EcoDynamics